STRESS/SLEEP - OMEGA 3
Diomega+ Stress/Sleep targets fatigue, worries and stress that accumulate at the expense of well-being and mental health.
Dietary supplement based on DHA of marine origin (250mg 100% RI) associated with a Magnesium complex, Group B vitamins and melatonin (1mg).
DHA contributes to normal brain function: the beneficial effect is obtained for a daily intake of 250mg of DHA or one capsule.
Magnesium, folate, vitamins B6 and B12 contribute to a normal psychological function and reduce fatigue
Melatonin helps reduce the time to fall asleep
Produced in France
Dosage:   1 capsule/day per 1 month 
Packaging:  Presented in box of 30 capsules in blister pack. 
Public price: 29,90€ / 30 capsules
Quantity for 1 capsule/DUOCAPTM: Fish oil :432mg, Of which DHA : 250 mg, Vitamin B3 :5.3mg  (33%), Vitamin B5 :2 mg (33%), Vitamin B12 : 0,83 μg (33%), Vitamin B8 : 17µg (33%), Vitamin B6 : 0.47 mg (33%), Vitamin B9 : 66.8 μg (33%), Vitamin B1 : 0.37mg (33%), Magnésium : 56 mg (15 %), Melatonin : 1 mg.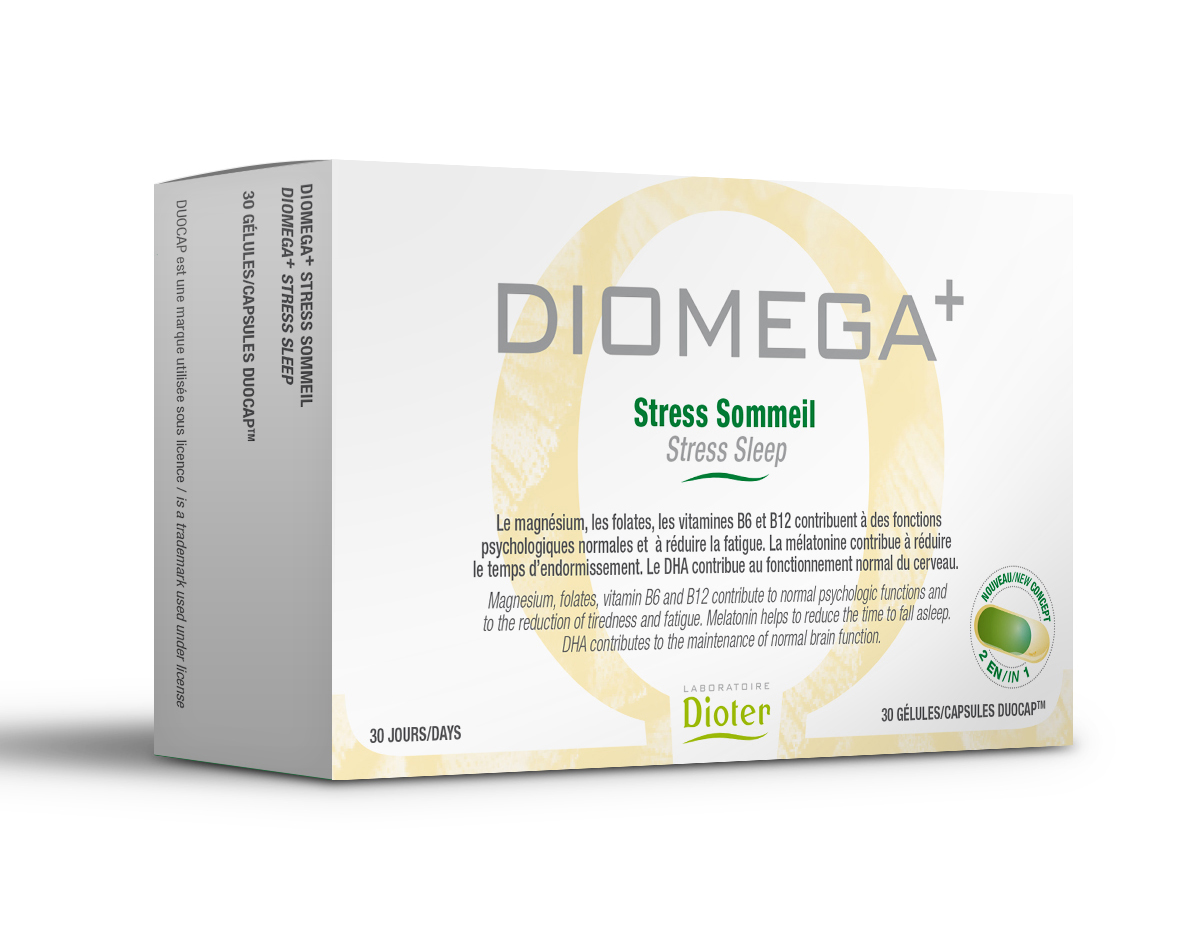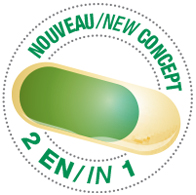 DIOMEGA + is also a unique dosage form (DUOCAP TM) allowing in a single dose per day an intake of 250mg of DHA (effective dose) and the protection and controlled release of complementary vitamins or minerals interesting from a nutritional and / or physiological point of view but incompatible with one another.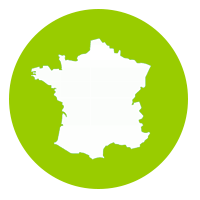 PRODUCTION FRANCAISE
Tous nos produits sont fabriqués en France dans des installations des plus modernes et en respectant les meilleurs standards qualités. Tous nos produits sont strictement conformes aux législations française et européennes.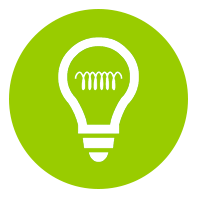 INNOVATION
Nous concentrons nos développements sur des ingrédients naturels innovants en mettant l'accent sur les synergies des principes actifs dans toutes nos formulations.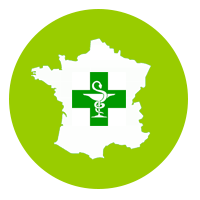 DISTRIBUTION NATIONALE
Tous nos produits sont vendus en France principalement par prescription médicale et sont disponibles dans les toutes les pharmacies françaises.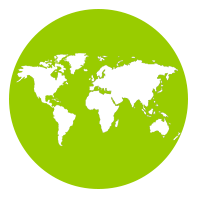 INTERNATIONAL
Certains de nos produits sont déjà vendus dans plusieurs pays d'Europe et du reste du monde et nous souhaitons construire des partenariats solides avec des distributeurs soigneusement sélectionnés et étendre notre présence internationale.
Une question? Vous souhaitez en savoir plus sur nos produits et notre entreprise?
N'hésitez pas à nous contacter!
+33 (0)4 92 92 28 70